welcome to
Help People, Inc.

For 30 years, the award-winning, visionary programs produced by Help People, Inc have been increasing sales, and productivity for businesses like yours, small or large, while lowing costs. Now Help People, Inc. has taken their visionary programs to a new level.
3-D Virtual Reality! Help People, Inc. makes the entry experience into the virtual world seamless. If your business has not entered into the 3-D virtual world yet, you need to do so, in order to stay at the top of the curve. Technology is moving extremely fast.
Inquire today how your company can benefit by using Help People, Inc., as you enter 3-D virtual reality. Get a head start and let Help People, Inc. help you and your company learn how to get the most out of the technology that is changing the way business is conducted.
If you own a virtual world, Help People, Inc. can help your retention numbers dramatically. We are the pro's at introducing businesses and individuals to this exciting new way to grow in recessionary times.
Call or email today.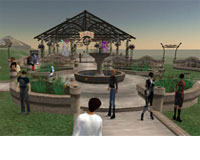 Virtual Reality: Costs Less, Works Better
Eliminating travel expenses is just the first layer of advantages virtual reality collaboration, training and education offer.
Today, workers use all sorts of technology to achieve their missions. Mobile phones, e-mail, wikis, and online documents are just a few of the tools almost everyone uses today.
Recent developments in virtual reality technology mean that the power of VR can now join the line-up of productivity tools.
What suprised and delighted us as we explored this new medium was that it is actually more effective and efficient than "real life." The secrets are the immersive, engaging nature of virtual reality space and the multiple channels of communication available in virtual reality.
>
Learn More

Our History

1969 - Help People, Inc. founded.

1973 - Founder Warren Haskin launches the Suite Hotel industry.

1974 - PIE Program developed and sold to major hospitality company.

2004 - Help People regains rights to PIE Program

2006 - Warren begins exploring virtual reality for delivery of training.
2010
- Help People Island in Second Life launches it's
website
for the new residents.